Vieux-Lyon : A gourmet's paradise.
Gastronomy, Shop
Do you enjoy good food and fine products? Lyon, France's gastronomic capital, is calling you. Imagine yourself staying in a fully furnished apartment in the center of Lyon, deciding to prepare a typical French meal. Monseigneur Lavarenne Street which joins Adolphe Max street to Place Benoit Crépu, offers all those fine products you need for a French meal: bread, meat, cheese and wine.
France is world famous for its bread.  At the corner of Adolphe Max Street and Monseigneur Lavarenne Street, you will find Eric Keiser, whose reputation as a master baker is renowned all over France.
Boulangerie d'Eric Keiser 1, rue Adolphe Max 69005 Lyon
If you can tear yourself away from the temptation of the speciality bread and cakes offered by this shrine to the art of baking, within a few steps you will find a butcher's shop of the highest quality. Every animal is chosen and prepared by the master butcher. Here you will find many specialities from Lyon including tripe and many interesting varieties of sausages including saucisson à cuire, saucisson brioché and andouillette.
La Grande Boucherie de Saint Jean   3 rue Monseigneur Lavarenne 69005 Lyon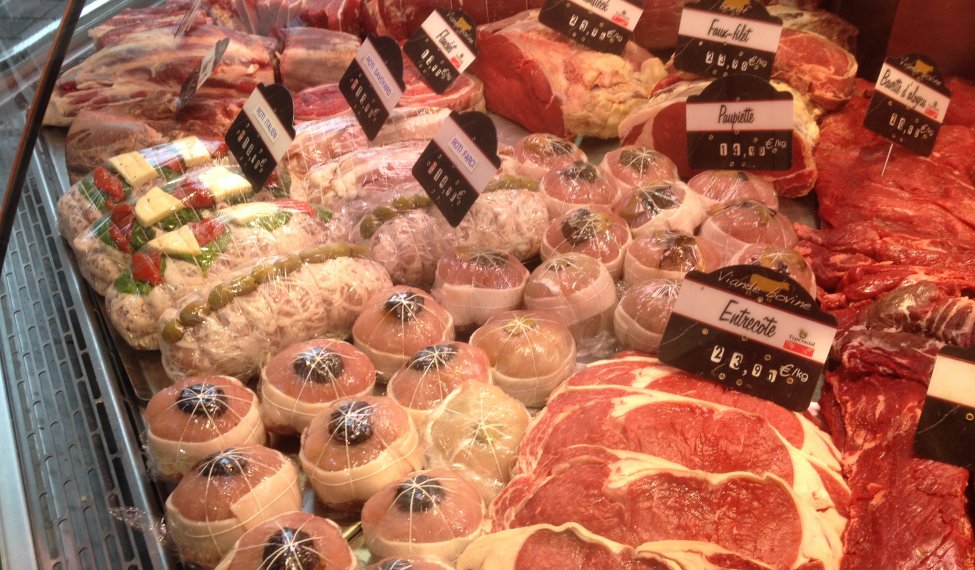 French cheese is also a symbol of the French way of life. Keep walking along the same pavement and you will arrive at La Crèmerie Lyonnaise. As well as la cervelle de canut, another speciality of Lyon, you can buy goats' milk and cows' milk cheeses originating from throughout France.
 La Crèmerie Lyonnaise 11 rue Monseigneur Lavarenne 69005 Lyon
Now only the wine is missing from this typical French meal. Next door to the cheese shop is a Fine Wine Store. The wine merchant will be able to advise you about the best choice of wine to compliment your meal.
Cavavin Saint Georges 13 rue Monseigneur Lavarenne 69005 Lyon